February 14, 2020
CAMPAIGN | Support Our Friends.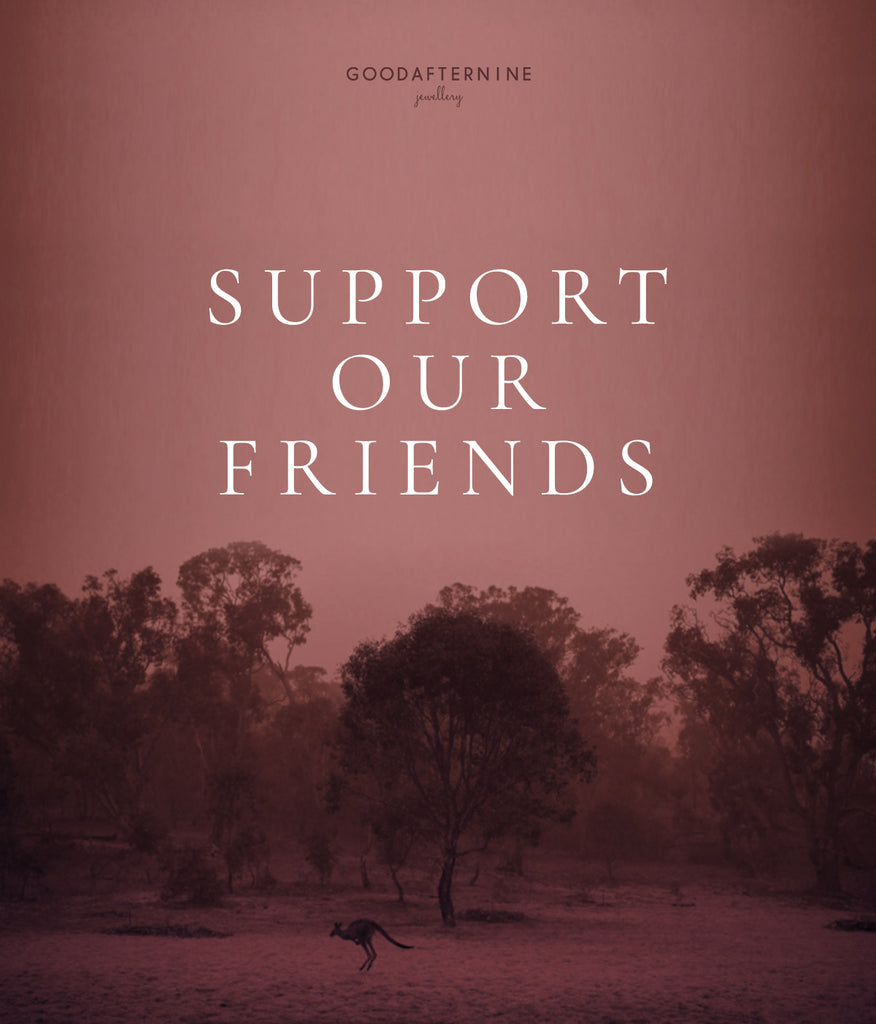 Australia's Massive Bushfires, we have been catching up with the news feed. We heard about the bush fire in Australia many times but this time is something, huge, spread, last for a long time and almost out of human hands. Heat, smoke, dust and, ashes became a major hazard.
The Sky turned red flames devastated burned and destroyed thousands of houses, 25 people died. More than 1000 million wild animals (koalas, kangaroos, cockatoo, sheep, etc.) Some have to escape fire from the forest and rest near the residential area.
Although, this situation is getting better the consequences must be a nightmare to the wildlife. Their houses become their threat. After this event, everything will change. Left only sore wounds and painful memories.
We want to help our friends in any way so we looked for some foundations which involve in this situation and launch the campaign "Support Our Friends - Save Australia"
Goodafternine donates 100% January 2020 sales revenue from the bear collection "Shaggy Squad" a total of 3116.34 USD (96,606.54 THB) to 4 foundations as below (except shipping fee) to 4 organizations 779.08 USD each.


Wildlife Victoria
They get Wildlife Victoria's own fully equipped mobile triage van with vets and rescuers to where it is needed and financially supporting wildlife shelters in the direct path of the bushfires to rebuild buildings and animal enclosures.
WIRES Wildlife Rescue
WIRES has been rescuing and caring for wildlife for over 30 years and WIRES mission is to actively rehabilitate and preserve Australian wildlife.
The Rescue Collective
This foundation supports clean water, medicine and things they need to rescue wildlife and domestic animals across Australia.
RSPCA NSW
They prevent cruelty to animals by actively promoting their care and protection across the state and run nine shelters and four veterinary hospitals dedicated to treating, rehabilitating and rehoming animals. They support the rescue by sending vets team to the area.
Click here to see the donate reference.
We want to help. Hope more or less our campaign could help them pass this situation and live. Life must go on.
Thank you for showing your good heart by giving to our campaign. Rescue, relieve and recovery, their works could be done by your kindness.

Shaggy Squad
This collection is about the bear raccoon and red panda, just so you know Koala is not a bear but we want Koala to include in this collection!!
It is like, A friend came from another place but we get along so well.
Today, our friend encountered a cruel event. Friends will not stay still. Freinds will help each other protect and take care of friends in a hard time to pass this event together.