Red Lobster Ring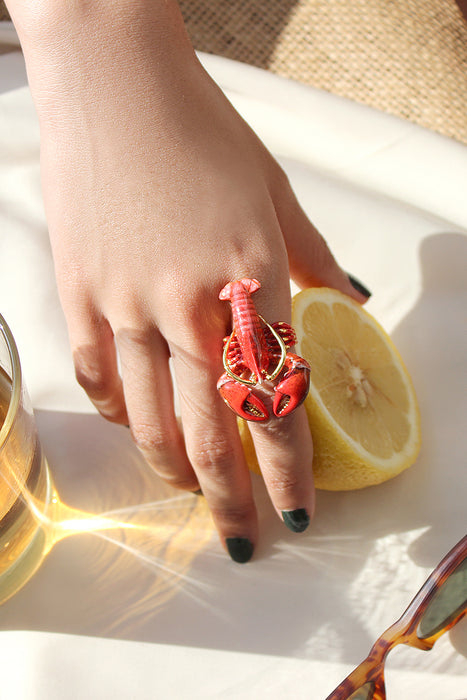 Dance with the waves, sing along 'Under the sea'... Open up your mind free. Imagine deep down through an ocean. Fantastic vivid sea lifes swim around. Let the ocean hears your soul. Let the sea animals take control. The 'OCEAN INSTRUMENT' is calling!
Every handmade item is quirky and unique, which makes it special. Handcrafted and full process produce in Thailand.
// materials: polished brass with 18k gold plating ( Brass is an alloy made of mainly of copper and zinc ) 
// finishing: high-quality enamel and special coating technique
// colour: red, white, beige, black
// *standard size : US 4, US 5, US 6, US 7, US 8, US 9, US 10  Adjustable
...........
*Standard size: In Stock Ring size.  Please allow 3-5 business days for your order to be processed and shipped.
Made to order Information (Custom ring size)
- Custom ring size available US 11 Or on your request. If you want to purchase half size please write a note when check out.
- Please note that Custom ring size piece cannot refund or exchange.
- Made just for you in 10-16 days
- The production time is not including shipping time. Estimate shipping detail is in policy.

Release in January 2019